5 Best Baby Floats for the Pool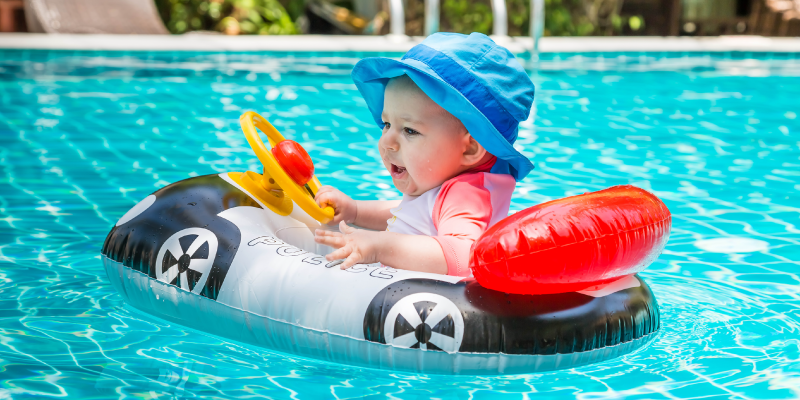 Summer is here! And everyone wants to be in the water, especially your baby. The best baby floats have every safety feature imaginable, but even then you need to always supervise your baby. Accidents do happen and drowning prevention guidelines say you should always be within arm's reach. Not only is introducing your baby or toddler to the water fun, but it helps them get comfortable with learning how to swim. Here are the best baby floats with top safety features and fun extras.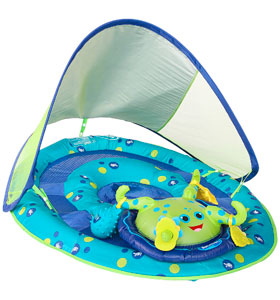 $29.75, Amazon
The SwimWays Baby Spring Float Activity Center is the perfect way to introduce your baby to the pool with a built-in play station to keep babies ages 9-24 months busy. Babies have fun with the attached toys while moms love that the large detachable canopy protects babies from the sun. This float folds down for easy storage and comes with a carrying case. It also has child safety valves, dual air chambers and an inner spring for durability. A soft mesh seat is comfortable for babies to sit in and refrains from getting hot in the sun.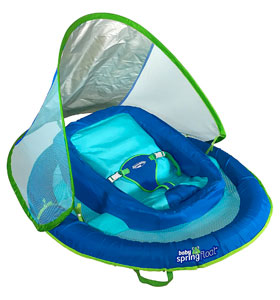 $37.00, Amazon
The SwimWays Infant Baby Spring Float is so comfy your baby may fall asleep in it!. It's built for babies 3-9 months making it perfect for infants. This float features a soft seat that cradles your baby on top of the float (vs. two holes for baby's legs to go through) and a 3-point harness for additional safety. There's a wide base and patented inner spring for additional stability. It even has built-in handles for parents to hold onto. Rounding out the best features is a detachable canopy with sun protection and carrying case perfect for on-the-go fun.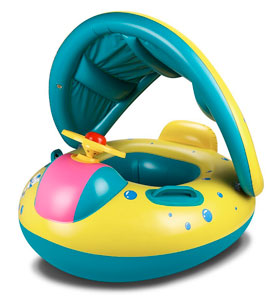 $16.99, Amazon
For older babies between 6-36 months, the Topist Baby Inflatable Swimming Ring is perfect. The pool float has a detachable canopy and a bumper boat design with a steering wheel and horn. This float is easy to deflate and comes with a carrying bag. The float is designed with a large outer ring and has two handles for stability.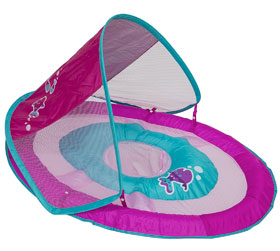 $18.50, Amazon
Teach your little ones how to kick with the SwimWays Baby Spring Float Sun Canopy. Designed for babies ages 9-24 months, the soft mesh seat gives babies the ability to kick their feet in the water as they float around. The canopy includes dual air chambers and safety valves, a low center of gravity and an inner spring that makes it exceptionally stable in the water. The fabric-covered rings add durability and there's an included mesh space for holding baby's water toys.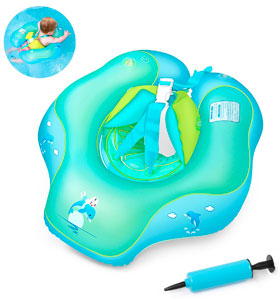 $18.99, Amazon
The Waitiee Baby Free Swimming Inflatable Float Ring is the most versatile of the group with three different sizes for growing babies. The float, which comes in two colors, has a comfortable, inflatable backrest and seatbelt for added safety. And it puts your baby in the perfect position to learn how to swim. Legs are free to kick and arms can reach the water but the safe design makes it difficult for babies to flip it over or dunk their head under water. Moms love that this float gives babies more access to the water and more independence.
Join the other 100,000+ new parents who love Bitsy Boxes.