6 Postpartum Clothing Hacks That Don't Make You Look Pregnant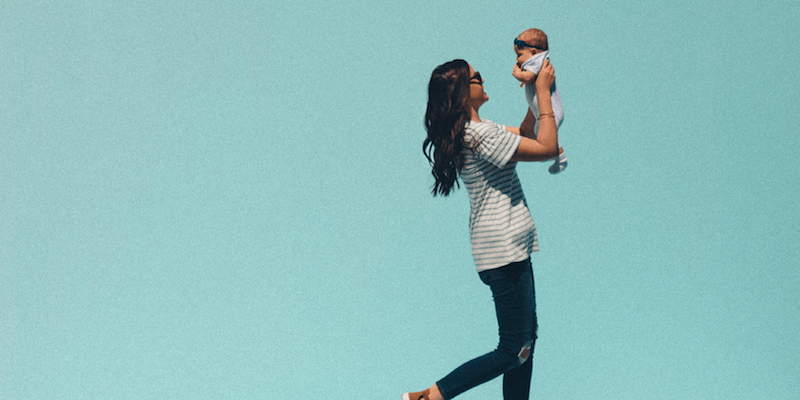 Here's one secret about delivering a baby that people don't mention: right after childbirth, you'll still look about 6 months pregnant. Finding postpartum clothing that works can be challenging, and you may feel as though you're in limbo on what to wear. Things you wore pre-baby may not fit right, or may not fit as you remember. And the number one goal of postpartum clothes is to avoid having people ask you questions, like, "When are you due?" or "Is this your first?" The second overall goal, of course, is to feel good about yourself. You just birthed a baby out of your lady parts. That in itself is a really big deal! So even though you're sleep-deprived and everything takes twice as long as it used to, if you can get dressed in the morning and feel confident about your lewk, tackling the day is a whole lot easier. Here are 6 postpartum clothing hacks that don't make you look pregnant.

A Good Stretch is Your New BFF
A stretchy waistband is your new ally in the quest for finding postpartum clothes that flatter your new (and temporary) shape. Even though you had aspirations about kicking your maternity clothes to the curb, they save the day during the 4th trimester, ahem, postpartum days. Since your days are filled with nursing or feeding a newborn around the clock you need to be as comfortable as you can possibly be. Think: the stretchier the waist, the better. High-waisted leggings have been a life saver for most moms because they hold everything in and perfect for nursing as you won't mistakenly flash your belly. Plus, a simple pair of black leggings can be paired with just about anything. Looking cute, put together AND comfortable? It's a win-win!
Take Care of the Girls
Real talk time: after your baby's born, your boobs belong on the hot mess express. They are huge. They leak. They ache. You get the picture. For the first couple of weeks, consider investing in a good quality sleep bra that is comfortable and won't feel restrictive as you're sleeping. When you find one you like, invest in a few of them that you can rotate as they'll get dirty quickly. After that, switch over to really good nursing bras. Here again, comfort is key. But there are brands that make nursing bras that actually look and feel sexy, as opposed to frumpy ones. Keep looking until you find ones that tick off all the boxes. It's the key to making you (and your girls!) feel like a million bucks.
Go for Function First, Fun Second
If you're a nursing mama, the time will come (often) that baby gets hungry while you're in the middle of running errands. Nursing tops are a godsend in these moments. They're designed to be convenient for getting the job done discreetly. A nursing tank is a staple that can be mixed and matched with pre-pregnancy clothing. Try pairing a black nursing tank with a cute cardigan or a nursing t-shirt that can work well with black leggings or yoga pants. If you have trouble finding nursing tops you like, they key to going with regular tops is to choose ones with a crossover bodice or elastic neckline. Or go up one size with a flowy top that can easily be lifted up for nursing.
The Darker, the Better
The old adage that black is slimming of course also applies here. But there's another bonus to wearing dark colors, and it involves being spit up on. Dark colors are super easy to spot clean when you're in between loads of laundry and too overwhelmed to add that to your growing list of things to keep up on. Plus, as your body changes shape and attempts to go back to what you remember it being, having clothes that give the illusion of slimming is a confidence boost for you.
Say Yes to Maternity Jeans
Not so fast! Say yes to your maternity jeans because you can, and will want to, still wear them as you navigate your postpartum body. Even though they're designed for pregnancy wear, maternity jeans work perfect for postpartum clothing because they have just enough stretch to comfortably support your tummy. Doctors estimate it could take 6-10 weeks for your uterus to shrink back to normal size so having a good (and comfy) pair of jeans can do wonders for your confidence. Plus, some brands specialize in post-pregnancy jeans. Maternity jeans as a postpartum clothing staple? Game. Changer.
Layers, Layers and More Layers
Certain clothing can be layered in such a way that people won't even know you were pregnant. That's maybe a stretch. But the idea is that layers are the perfect way to continue wearing the cute, stylish clothes you're accustomed to that still support your post-pregnancy body as it's going through changes! Tunics are perfect because they work for nursing and cover your butt to pair perfectly with leggings. And flowy dresses that aren't form fitting are comfortable and can be paired with leggings, a cardigan, etc. Button-down shirts look amazing with jeans and can go from day to night by adding a cute jacket. Kimonos, ponchos, cardigans and jackets are great layering pieces that also double as the perfect wraps for nursing. When you're able to grab a few staple pieces, the opportunities are endless on how you mix and match them for comfort AND style.
At the end of the day, the biggest point to take away in finding postpartum clothing that works for your new body is to be kind to yourself. What your body is capable of is truly a miracle, and all you have to do is look at your precious little one as a constant reminder of all that it's gone through. You birthed a tiny human being. You're capable of conquering anything, including the struggle to find clothes you feel good wearing. You got this, mama!
Join the other 100,000+ new parents who love Bitsy Boxes.