Choosing a Daycare that Fits Your Toddler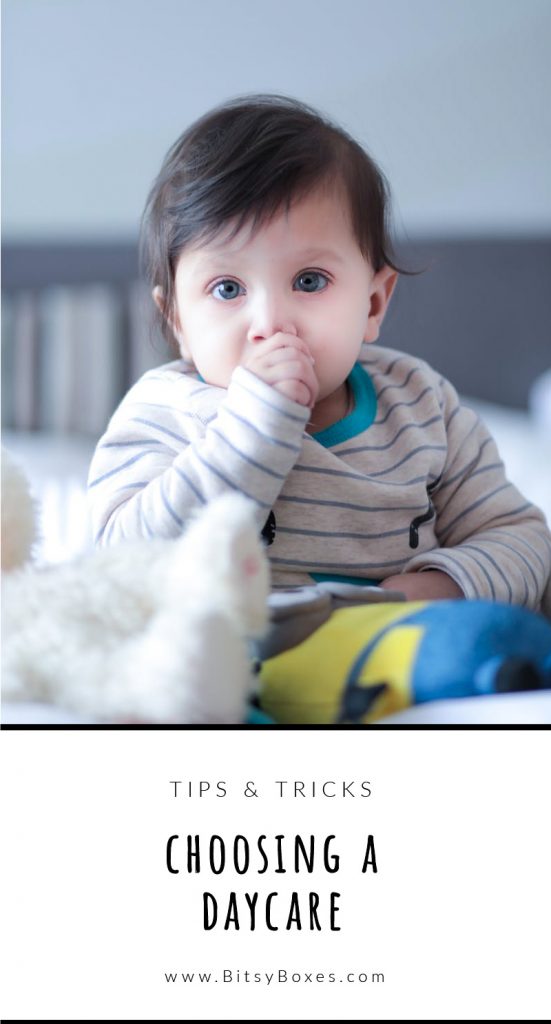 We TOTALLY get it- the idea of leaving your little one in the hands of complete strangers can be absolutely daunting. It's like, "Who are these people and are they giving my little one the care and attention they deserve?! Did they remember to put on her favorite fuzzy blue socks during nap time or give him Dakota the Dinosaur for circle time?" While the act of choosing a daycare is a major celebratory mama milestone, having to temporarily part with your new junior BFF  is never easy. It's only natural for you to want the best for your child and to do whatever it takes to ensure they are happy and being well-cared for!
Let's Get The Crawl Rolling
When you and Bitsy come across a daycare that leave you both drooling, you'll need to take several proactive measures to ensure it's truly the best match. Prior to researching options, take the time to sit and write down your priorities. For example– would a daycare located near your home or work be more beneficial? Do you want your little one around lots of other kids or would you prefer a smaller group? Once you've identified the traits of your ideal daycare you can begin the official research process. Many mamas commence the hunt by seeking recommendations from family and friends. Scouting your neighborhood is also a simple yet effective way of finding the right fit within a close proximity. And while you're at it, don't forget to hit up the pros mamas! Visit Childcareaware.org to find licensed and accredited centers near your home or office. Oh- and if you happen to see that the National Association for the Education of Young Children (NAEYC) or the National Association of Family Child Care (NAFCC) has given your dream daycare their seal of approval, consider you and your Bitsy one lucky duo!
Call Me, Baby
Dial up your daycare of interest to discuss any introductory questions or concerns you may have (ask basic questions involving pricing, size of groups, etc). A quick chat won't give you the greatest feel for their facility or practices but should be enough to hold you over until you schedule an in-person interview.
The day of the interview, be sure to ask daycare providers and faculty more pinpointed questions. Anything ranging from the facility's daily hours to their opinions on child discipline is fair game. Be sure to keep an eye on the teacher-to-child ratios while you're there. Remember, your child should always be watched by a caregiver, regardless of if they're sleeping or playing. In a perfect world, a caregiver is assigned three or four infants/toddlers (ideal for one-on-one attention). If your child is slightly older, one caregiver is acceptable to supervise four to six toddlers or six to nine preschoolers.
Before you go, be sure to snag any paperwork that might be helpful in the decision making process- like a daily activity schedule or list of center policies. Requesting a list of references to call up is also a great follow up. Getting truthful feedback from parents is particularly influential when determining if that daycare truly is the right fit. Sure, it's unlikely the daycare will provide references that will have anything negative to say, but odds are fellow mamas and co. will tell you like it is!
Does Bitsy Approve?
Return to your dream daycare with Bitsy in tow! Watch their interactions with caregivers and other students- do they seem comfortable? Happy? It's often at this point in the process where mamas officially know if they've found "the one." Seeing a little one gleefully enjoying their surroundings during a brief visit is definitely a critical mama selling point!
Just In Time
Selecting the right daycare is one of the most influential decisions a parent can make for their little one. Since the first few years of life represent a critical time for child brain development, choosing a superior daycare facility can promote beneficial relationship building, the expansion of social skills, and the balancing of emotions well into toddler years. Mama Pro Tip #319: Secure a spot at a first-rate daycare waay ahead of time. The good ones fill up fast! In fact, many mamas look into daycare options while they're still pregnant! Begin the search at least six months prior to needing the actual daycare service to prevent being put on a waitlist (it's surprisingly common, even when planning ahead). If you and your little one do end up on a waitlist, make sure you stay in touch with administrators to relay your continued interest.