Choosing the Best Stroller for Your Family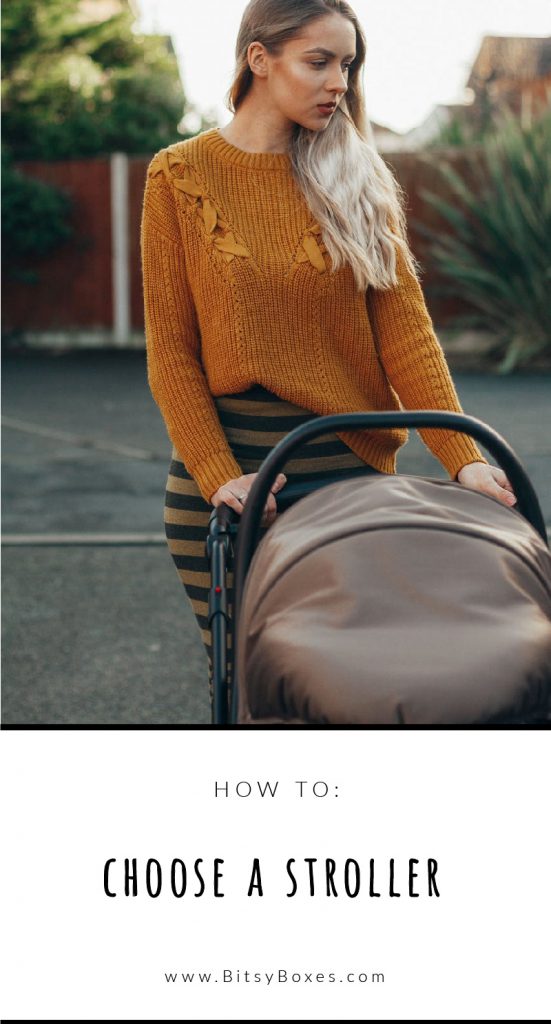 A stroller is one of the bigger ticket items you'll need purchased before baby arrives!  It will be something you'll need from the time they're born up through their toddler years, and will be a true lifesaver for long days of errands.  But with all of the options, features, and information out there, it can be SO hard to choose, especially for first time mamas! As mamas of all walks of life ourselves, we've worked to create the ultimate guide in choosing the best stroller for you and your family!

Lifestyle
The first thing you'll need to consider when choosing your stroller is the type of lifestyle you'll need it to accommodate!  Are you a first time mom who plans to stop at one child, or are you planning on starting a large family? Do you live in the country, or in a big city?  Will you want to go running with the stroller, or just take it out running errands? All of these can will help you narrow down the functions you need most.
For regular trips to the park, you'll want to choose a stroller with good suspension, that's sturdy, and offers a full recline.  A hybrid stroller can be great for this! However, if you're looking more for indoor walking, like a mall, you'll need something light, easy to fold, in-line, and easy to maneuver around obstacles and people!
If you plan to spend a lot of time in a big city, you'll be looking for something durable, quick folding, easy to maneuver, and with a large basket for carrying necessities!  However, if you're a jogger and will want to take it on runs, you'll need something with large tires, great suspension, lightweight, and that offers front-wheel lock.
For a growing family, you'll want something with multiple seats, or that offers additional attachments once your family gets bigger!  If you plan on having a stroller that grows with your little one, find one that offers either a full recline as well as upright, or one with an easy-to-use bassinet attachment — your newborn won't be able to ride upright for a while!
Of course, you always have the option to purchase multiple strollers for multiple purposes, and this may be necessary in some situations.  However, some mamas love the ease of a transitional stroller, and enjoy the extra storage space!
Features and Options
It can also be confusing to decipher all of the features that strollers can offer!  Understanding the feature can help you to better understand which ones will fit better into your lifestyle choice from above.
Fold Options.  The big thing to pay attention to when looking at fold options is the ease of use!  How many steps does it take? Will you have to remove everything from the stroller or just some of it?  If you have large storage spaces and will be taking your stroller mostly right out the door and onto the pavement, the folding options may not be as important to you.  However, if you want to take it with you on errands, you'll want quick-fold options for pulling it in and out of the car, moving it into stores, etc. Small spaces will need a stroller that folds up tight and takes up very little room!
Positions.  This feature focuses on the way your little one will be seated in the stroller.  It's also known as the recline of the stroller! Highly important for newborns and infants, the strollers must fully recline so Baby can lay comfortably inside.  Another way of navigating this is with a bassinet attachment — this will look very similar to a standard bassinet they might sleep in! However, the recline options are great for growing little ones as well — whether your toddler is napping or awake and curious, having choices in how they sit can be ideal!
Harness.  As a safety feature, this is an incredibly important feature to focus on!  The most popular (and safest) is the 5-point harness. If possible, always see if you can test the harness first — some can be tricky, hard to use, or difficult to snap in place.
Wheels.  The wheels will depend greatly on the type of terrain your stroller will spend most of it's time on!  Wheels are typically either air filled or all rubber — all rubber will fare well on store floors and very smooth surfaces.  For bumpier rides, or mostly anything outdoor, air filled is the way to go. Air filled tires offer much better shock absorption and stability.
Our Favorites
Now that you know what lifestyle you're looking to accommodate and the features to go with them, it's time to pick your stroller!  There is no perfect stroller, but there will be a best stroller for you! We've rounded up some of our absolute faves for you to choose from!
UPPAbaby Vista.  We love the Vista stroller!  With multiple configurations and attachments, it's a great, versatile stroller to grow with baby and your family!  Start with their bassinet option, and move to the reclining seat that sits forward and backward — you can even add additional seat attachments for younger siblings later!
Evenflo Pivot Xpand.  Another great stroller to grow with you is the Pivot Xpand!  It also comes with both a bassinet and toddler seat option, as well as the ability to add extra seating!  You'll love the extra large storage basket underneath, to hold anything from diaper bags to toys to shopping bags and more!  We also really love the front wheel swivel and rear wheel suspension for better maneuverability!
City Mini GT.  We LOVE this stroller for its one hand quick-fold technology — talk about easy!  The all terrain wheels make any outing that much easier, and it maintains durability and sturdiness while also staying lightweight.  This is a single stroller, making it perfect for those first time mamas!
Bugaboo Donkey.  The Bugaboo Donkey is another mama fave here at Bump Boxes!  Albeit a bit pricey, it certainly lives up to the hype with multiple options, accessories and features.  We personally love the side luggage basket — it makes purses and diaper bags super accessible!
You can't go wrong with a quality stroller, Mama, no matter which one you choose!  Every family is different, and when shopping, focus less on hype, and more on which stroller fits your needs best — whatever they may be!