Fall Bucket List for Families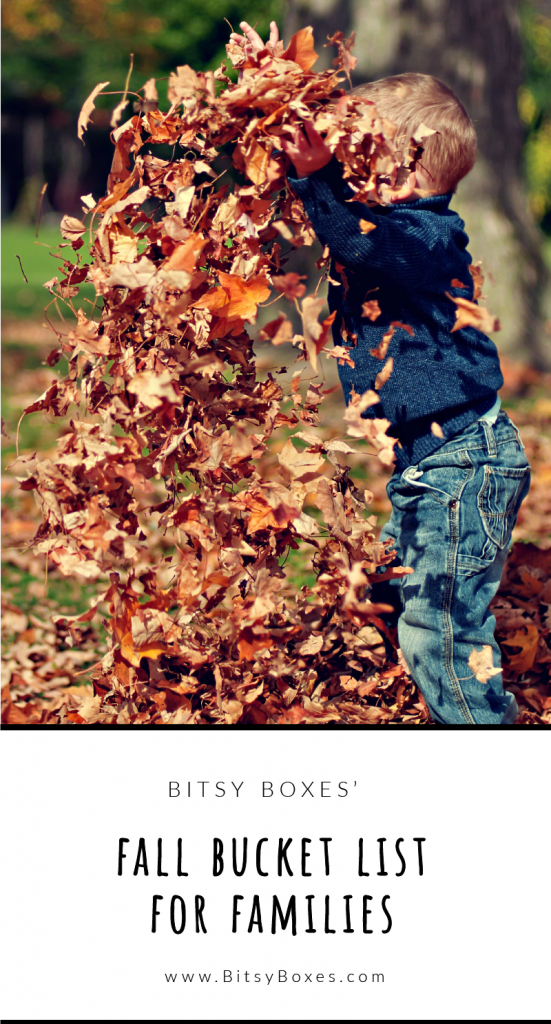 Happy October!  As the wind starts to get a little chillier and all the leaves change, it's the perfect time to round up Bitsy and the rest of the family and head out on an autumn adventure!  Fall is a great time for families, with plenty of activities, great weather, and the best excuses to snuggle up close!  So get ready, Mama, we've got the absolute best fall bucket list for you and your sweet family!
Corn mazes are so much fun!  Get lost, or follow the map to a tee, your bitsies are sure to love trying to navigate around the tall corn, and you'll love sharing such a sweet time with them!
Who doesn't love a caramel apple?!  Set up a fun decorating station with chocolate and white chocolate syrups, candies, nuts, and caramel, and the whole family will have a blast making each apple a different masterpiece!
Hay rides are the perfect family activity for fall!  Grab some cozy sweaters, snuggle in close, and enjoy the ride as you enjoy quality family time and conversation!
Once you and your Bitsy have picked the perfect pumpkin, make sure you check out all these delicious pumpkin recipes to use them for!
Another great use for all of those pumpkins you just picked!  With designs for every level of artist and interest, the whole family will love their new line up of pumpkins!  You can find some great ideas here!
Roasting pumpkin seeds is a delicious way to use up all the insides of those pumpkins you just carved!  Whether you like salty, savory, sweet, or spicy, there's a pumpkin seed recipe for you!  We love this one.
7. Take Fall Photos
Fall is the perfect time to round up the family for a photoshoot!  Wear your best fall clothes, find a beautiful background scene, and off you go!  You'll cherish these all season long (and even into the winter!).
8. Jump in Leaves
Would any fall bucket list be complete with piling and jumping in leaves?!  We didn't think so.  The whole family will love raking up the biggest pile ever and then taking turns jumping!
We can't wait to see all the fun things you and your Bitsy do this fall!  We'd love to see them — make sure you tag us @BitsyBoxes in all your autumn adventures!