Holiday Gift Guide for the Spa Obsessed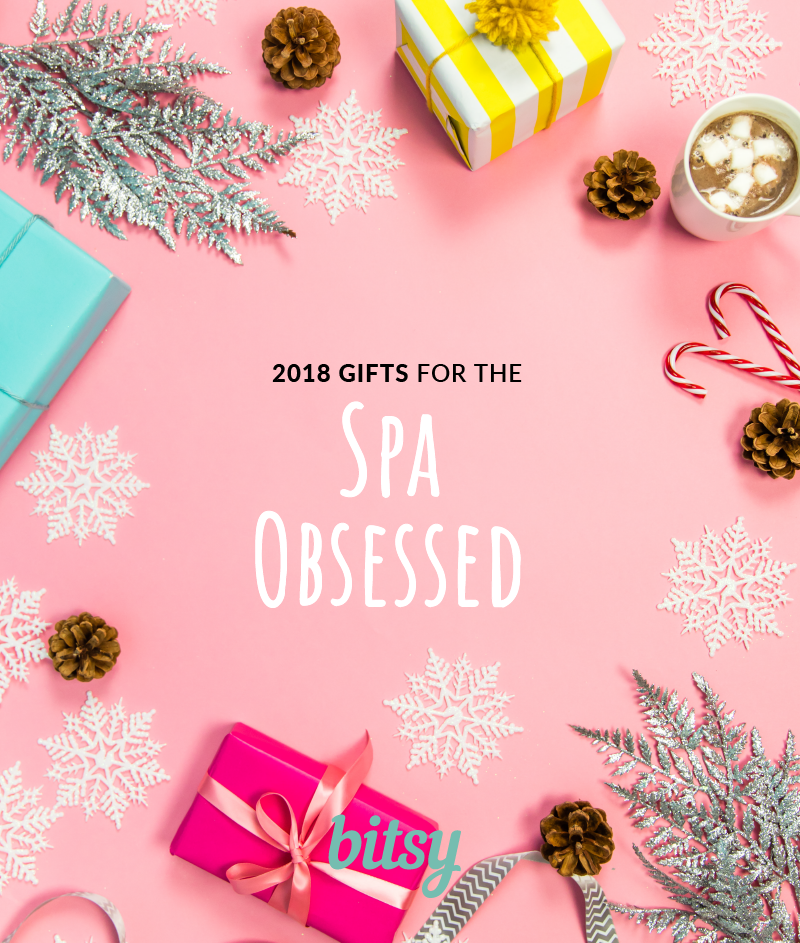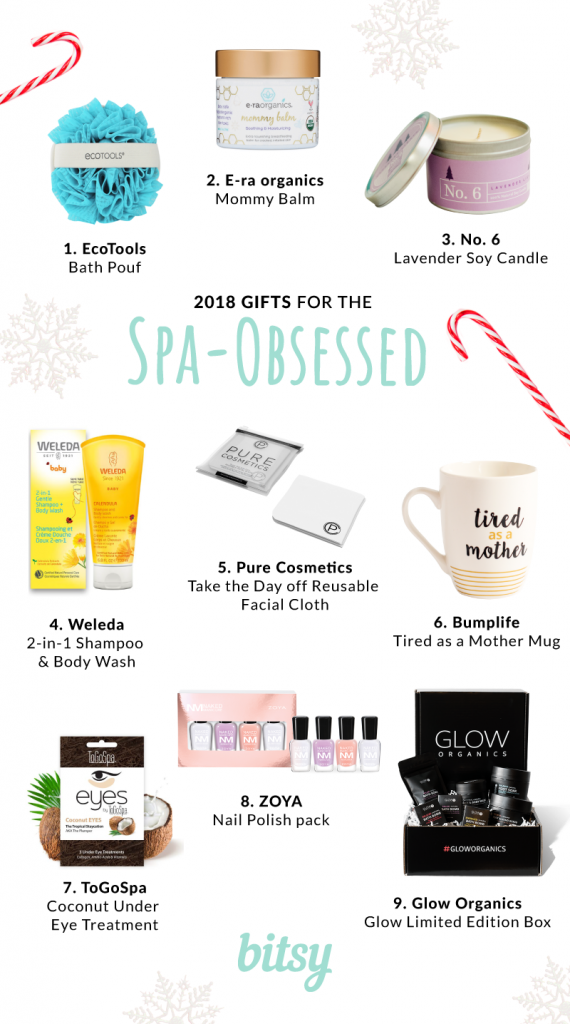 The items in this gift guide were selected especially before that self care-loving, essential oils-using, loves-to-be-pampered Mama on your list!  Enter to win the entire guide HERE!
EcoTools Eco Pouf Dual Cleansing Pad:  Talk about double duty!  This cleansing pouf from EcoPouf is designed with a natural loofah on one side and recycled netting on the other.  The loofah gently exfoliates skin, while the netting allows you to lather your favorite soap all over–leaving you feeling fresh and clean!
E-ra Organics Mommy Balm: This Mommy Balm from e-ra Organics is a Mama must-have…trust us!  Made with USDA Certified Organic ingredients, the balm will take pain and irritation out of breastfeeding by soothing inflamed skin, hydrating any cracked areas, and helping to prevent chafing under clothing!  Simply smooth on this luxurious cream, and get back to feeling like yourself!
No. 6 Lavender Soy Candle: For when you need to kick back, relax, de-stress, or just make your room smell great, this candle is a mama's dream!  An aromatherapy candle made with no synthetic fragrances, paraffin, or lead, this is a candle you can feel good about!  With its soft lavender scent, you'll be relaxed in no time, mama!
Weleda 2 in 1 Shampoo & Body Wash: Perfect for everyone in the family, this wash works double time!  Kind calendula gently cleanses delicate skin and hair, so everyone has fun at bath time.
Pure Cosmetics Take the Day Off Reusable Facial Cloth:  A super soft cloth to take off everything after a long day!  If hormones are wreaking havoc on your skin, fight back with this facial cloth!  The soft spongy texture will remove all makeup, dirt, and impurities, leaving you fresh-faced and all clean!
Bumplife 'Tired as a Mother' Ceramic Mug: When you need a refuel, this mug is just the thing!  The adorable sentiment will let everyone know to stay outta your way!  Simply fill this ceramic mug with your favorite beverage, sip, and enjoy!  Hang in there, mama, you got this.
ToGoSpa Coconut Eyes Under-Eye Patches: These under-eye collagen treatments are perfect for refreshing tired mama-eyes!  Simply place them under your eyes and let the cool collagen, amino acid, and coconut packed strips do all the work!  You'll look bright-eyed again in no time!
Zoya Naked Manicure Nail Set: Enjoy a beautiful manicure without all the chemicals! Free of formaldehyde, camphor, toluene, and other harmful chemicals, you're sure to love your new favorite polish from Zoya!  This Starter Kit offers the best in-home manicure, featuring bottles of Naked Base, Pink Perfector, White Tip Perfector, And Satin Seal Topcoat.
Glow Organics Limited Edition Gift Box: Create the ultimate spa experience for pregnancy and beyond with this limited edition box from Glow Organics!  Filled with items from their line specifically designed for pregnancy, this box is the perfect gift for any expecting or new mama!  Provide mom with the relaxing day she deserves and let her mama glow shine!