Our Survival Guide to Traveling Overseas with a Toddler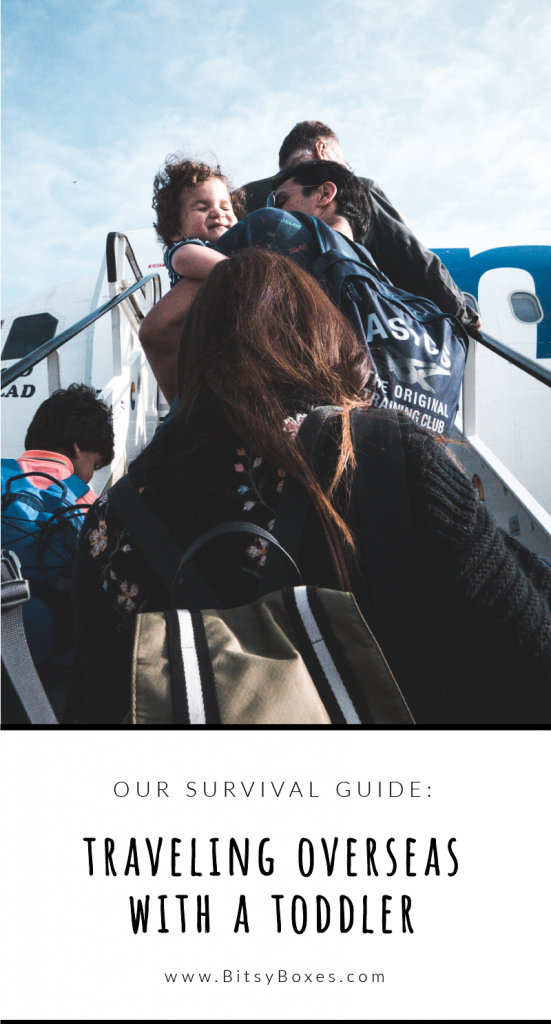 It's no secret that traveling with little ones provides its own set of challenges, but those challenges become even bigger when you consider an international trip!  The longer plane flights, jet lag, different time zones, and change culture can all be a shock to your Bitsy and their routines and normalcy.
While many parents save international travel for older changes, it can sometimes be unavoidable — whether for work, family events, or other circumstances, sometimes longer travel must be done, and you can't leave the little ones behind!  In those instances, there are things you can do to make things a little easier on everyone…here's your guide!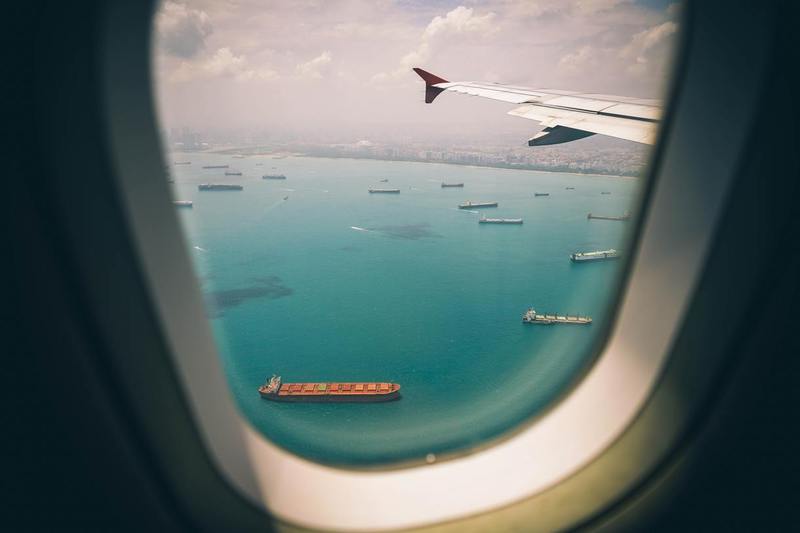 Pack the carry-on.
Even if you choose to check your luggage, make sure you pack a carry-on with a few essentials!  This can be a diaper bag, large purse, or other small-sized duffel bag.  Pack it with things like wipes, an extra set of clothes and diaper, some snacks, and a tablet with plenty of activities on it.  Add any other necessities that suits you and your family — you'll be so glad to have them in arm's reach on the long flight!
Wear your little one.
Bringing a baby wrap and carrying your little one on your body can make the trip through security much easier.  You can't carry a carseat or other carrier through the detectors, but they will let you wear your little ones through them — this will make things much smoother when you're trying to rush through the hectic crowds!
Choose flights around your schedule.
Keep your normal routines in mind when planning flights — choosing the long flight during your little one's typical bedtime means they'll be more likely to sleep the whole flight.  Talk about a win!
Adjust to the time change.
Speaking of schedules, make sure you keep in mind that the time difference will throw everyone's routines off.  To prepare, try putting little ones to sleep during the time they'll be sleeping in the new country!  This will make the acclimation to jet lag much easier on all of you, and they won't feel such a shock!
Rent apartments, not hotels.
Trust us on this one.  You'll love having extra space for Bitsy to sleep so they don't get disturbed as easily!  And if you have to rinse out bottles, sippy cups, and other kid-friendly dishes, you'll be glad to have a real sink as opposed to the bathroom sink or tub.  Try services like HomeAway and AirBnB to find the right digs for you!
Stay close to your main activities.
Staying as near to the main attractions as possible will come in handy if your little one needs a quick nap or a change!  It can also help with the large amounts of walking that travel often requires — toddlers can find a lot of walking quite tiresome!
Download activities AHEAD of time.
Load up a tablet with interactive games, music, and plenty of shows and movies before the hubbub of travel begins!  Handing restless toddlers a tablet with their favorite movie on it will make the flight easier on them and everyone around them.  And you can breathe easy knowing they're being kept busy!
Take advantage of early boarding.
Many flights will offer early access to boarding for those with children — make sure you use it!  It will be much easier to get to your seats with out a ton of people all around you.  For bonus points: ask if they have any extra seats you can sit next to.  If the plane isn't too full, they can often move you next to an empty seat with no charge!
Bring. Extra. Clothes.
We can't stress this one enough!  Accidents, messes, and general mayhem can follow toddlers everywhere they go — make sure you're prepared with plenty of outfits!  If you stay in an apartment, there should be a washer and dryer, and there will always be laundromats, but you'll be grateful to have easy access to a clean outfit!
Travel safe, Bitsy!