The 7 Best Bassinets to Buy in 2019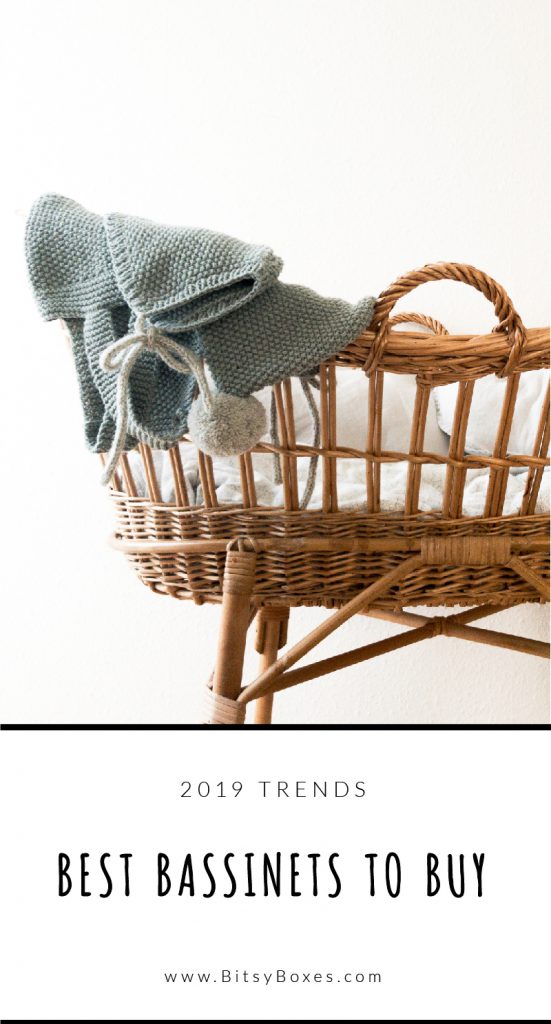 The first few months of bonding with your newborn are filled with a variety of emotions from joy, happiness, content and overwhelm. Especially if this is your first baby! With so much information and advice at your fingertips, it can be tricky to navigate the terrain and figure out what's best for you and your baby. One thing you can count on during the first several months is that you'll spend more time trying to get your baby to sleep than anything else. So what's a sleep-deprived new mom supposed to do? If you've already purchased a crib, there are a few reasons to postpone using it and opt for a bassinet instead to begin with. Since frequent around-the-clock feedings are a given with a newborn, moving a crib around is inconvenient. Bassinets are typically lightweight and portable, which means you won't have to stray far to check on your baby at night. Plus, the American Academy of Pediatrics (AAP) recommend babies sleep in their parent's room for at least the first six months and up to that first year. And if you're a new mom recovering from a C-section, hoisting a baby into a tall crib can be a nightmare. A comfortable bassinet can go a long way toward granting well-deserved rest for you and your baby. With so many bassinets to choose from, what are the main factors to take into consideration? Safety, breathable materials, accessibility and mobility are key. Lucky for you, we've taken the guesswork out of selecting and have rounded up the 7 best bassinets to buy in 2019.
The Green Frog Bassinet has a lot of things going for it, including snap-on legs, a portable travel bag, hidden wheels for easy transport and minimal assembly. It even comes with a mattress and crib sheet, saving you an additional expense. Highlights include a mesh window that helps with air circulation and gives you easy access to watch baby sleep. Plus, it gently rocks with your baby's movement, which can help soothe a cranky baby back toward falling asleep. This bassinet is listed as an "Amazon's Choice" product and reviewers love the lightweight and sturdy quality.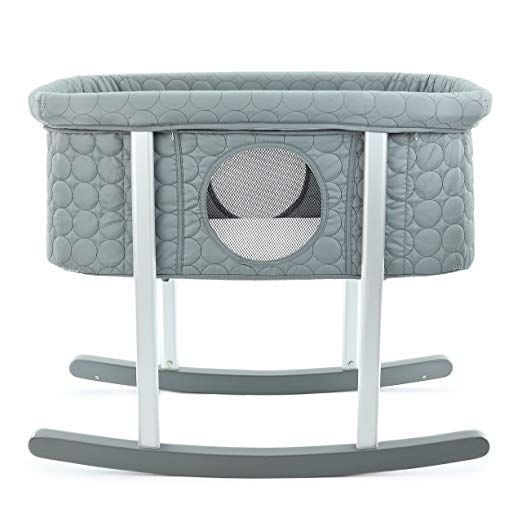 Another "Amazon's Choice" for best bassinets in 2019, and the most affordable one on the list is the Delta Children Sweet Beginnings Bassinet. You'll love the removable canopy, nightlight, soothing lullabies and bottom basket for storage. Plus, the wheels make it easy to transport so baby can be near you during late-night feedings. Reviewers on Amazon love that it's easy to assemble and overall feel it's a good value for the quality and safety. The only downside to this bassinet is that it is designed for infants up to 15 pounds only and isn't a long-term option as your baby grows.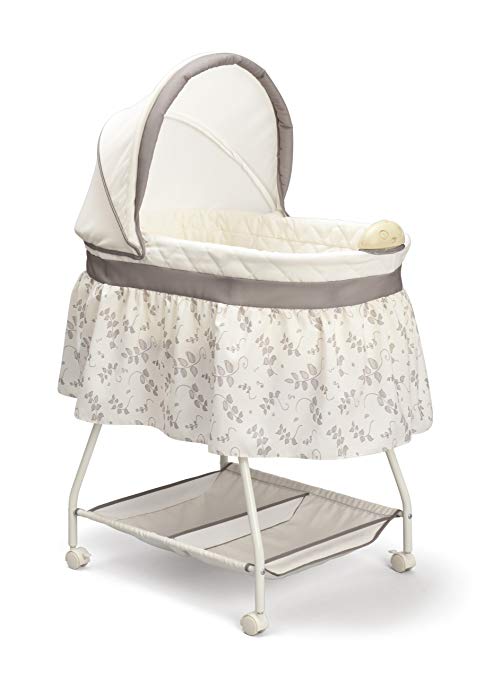 We bet you're wondering, "is the SNOO really worth every penny?" And steep price point aside, the answer is a resounding yes. Created by Dr. Harvey Karp, author of Happiest Baby on the Block, the SNOO is the only bassinet that meets all AAP Safe Sleep Guidelines. Features include a constant rocking motion and white noise that mimics what baby experiences inside the womb; mesh panels that prevent overheating and a SNOO sack that clips to the bed keeping your baby on his or her back. You can also customize settings to fit your baby's sleep experience, which can also teach your little one how to self-soothe without the usual sleep training. Amazon reviewers rave about the SNOO, and the creators have now included an option for renting one for budget-conscious new parents.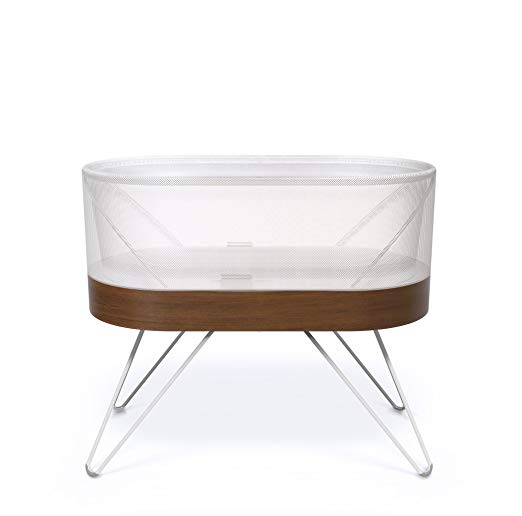 The HALO Bassinest Swivel Sleeper is one of the most popular bassinets on the market, making it an obvious choice for the best bassinets of 2019. The HALO is especially effective with preemies as it can mimic conditions of the womb with two levels of vibration, three soothing sounds and lullabies. It also gives new parents a gentle reminder to put the baby back into the bassinet after feeding. Reviewers love that the sleeper swivels 360 degrees which makes getting in and out of bed for baby hassle-free. There's also a side wall that lowers to give nursing mothers and/or mothers recovering from a C-section an easy way to pick up their babies.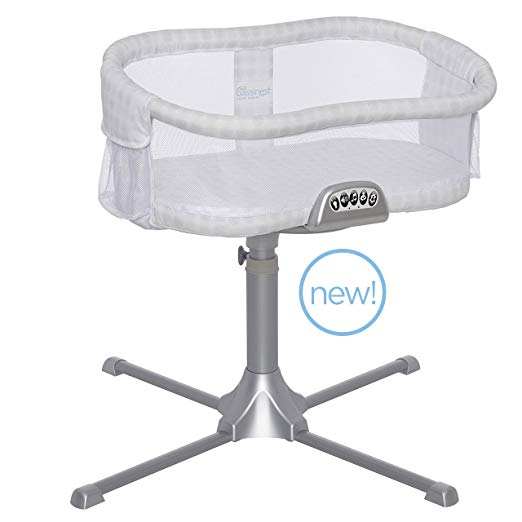 The BABYBJORN routinely makes the list for best bassinets thanks to its classic and stylish design that looks more like an elegant piece of furniture rather than a bassinet. It's a regular #1 bestseller on Amazon, and as a bonus, can fit into the most cramped of spaces and is light enough to freely move around your house. The breathable mesh fabric adds a level of safety and security for new parents, along with a removable canopy and spring suspension system that gives the bassinet a gentle rocking motion.
For those new parents who want their little ones as close as possible without sharing the same mattress, the Arm's Reach Concepts Cambria Co-Sleeper is a perfect compromise. One side folds downward so parents can easily reach for newborns, and the height is adjustable so the bassinet can lie even with most adult beds. It also comes with a strap that attaches to the bed so there's no gap. Mesh sides give your babies plenty of breathing room and there are bottom compartments for storage. Reviewers love that this gives them the ability to co-sleep with their babies without the concern of safety issues.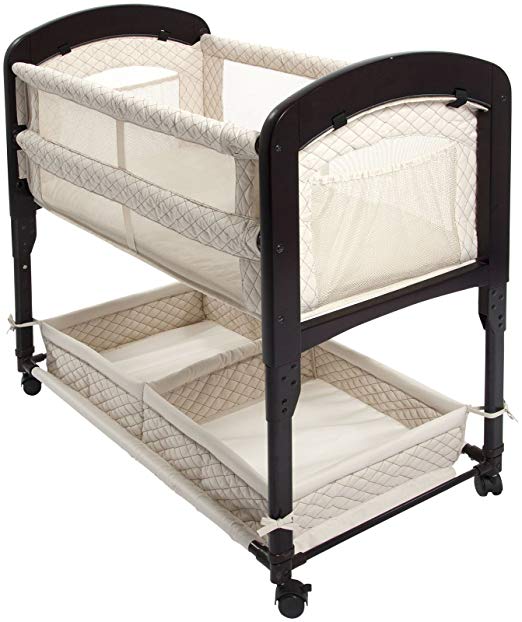 The last bassinet on our list is the ultimate in convenience. The MiClassic 2in1 Rocking Bassinet gives traveling parents an option that can be folded in one quick movement. Additional features include breathable mesh panels, plenty of surface area for little ones to lie on, a rocking mode to soothe tired babies, a waterproof mattress cover and a convenient carry-on bag for traveling. Amazon reviewers love the convenience of this bassinet and regularly use it as an everyday option.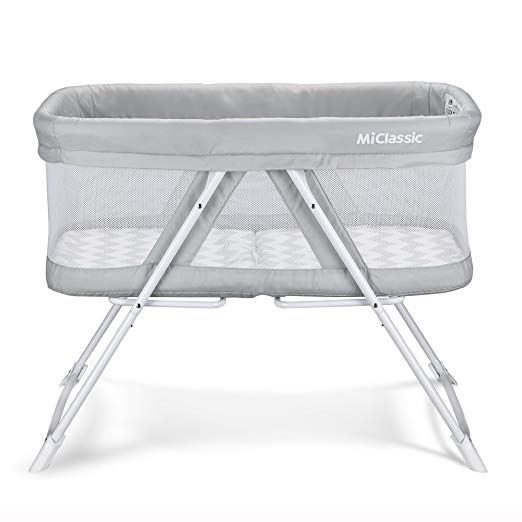 **Bassinets independently verified and recommended through VeryWell Health.