Traveling With a Toddler: Expert Tips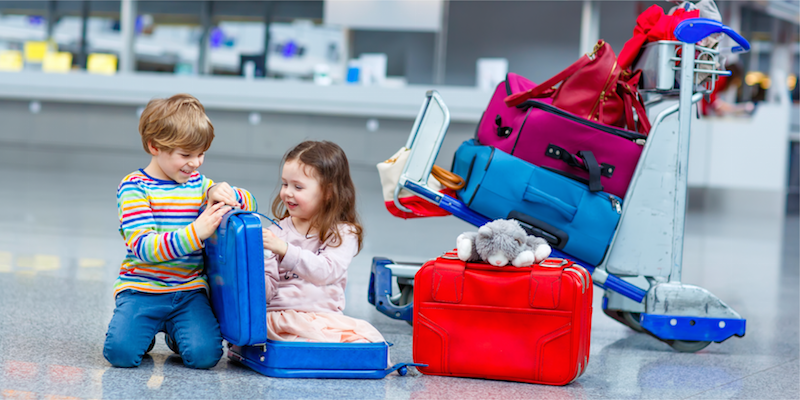 Everything is more entertaining with toddlers in tow, and that includes traveling! Even though having a toddler means your trips will never be the same, it doesn't have to be a nightmare getting from point a to point b. Traveling with a toddler requires extra planning and the fingers-crossed grace everything goes smoothly (and quickly!). Here are some expert tips for traveling with a toddler.
What you should know before you go
Depending on where you're traveling, if possible consider booking direct flights to save yourself more time in the airport. Think about the times that you'll be flying and try to coincide those with when your toddler naps. If you can keep him asleep during the duration of the flight, it would save you some worry. Expert tip: Don't let a layover be the time that your toddler naps as an airport waiting area is the perfect place for him to burn off an abundance of energy until your next flight.
How to pack when traveling with a toddler
When you begin packing for your trip, don't skimp on extra supplies to keep your toddler entertained. Bring as much food and as many toys as you can for your carry-on luggage. Even if you don't end up using everything, you'll be happy you had it just in case of an emergency (aka a toddler temper tantrum and meltdown). You'll also want to include extra diapers, wipes, a change of clothes and hand sanitizer for wiping germs away or cleaning up an unexpected mess. Expert tip: When you pack the rest of your things, childproof your items and make sure that once you arrive at your destination, your toddler isn't accidentally getting into medicine bottles or things that don't belong to him.
Maneuvering through the airport with your tyke
Check before you go, but most airlines will allow you to check baby gear for free, so it may be wise to bring a stroller that can help you cruise through the airport. With some stroller systems, you can also purchase travel bags that protect your gear from any damage. Before choosing to check or gate-check your stroller, consider whether you'll have long layovers or a reason to need the extra gear before you land. Expert tip: Slip-on shoes work best for both you and your toddler to make going through security a breeze. Keep your toddler entertained by making the security line and procedure a fun new experience.
Strategies for conquering the plane ride
If you haven't already chosen your seats, now is the time to request an aisle seat. The window may be a fun distraction for your little one, but you'll be glad you have easy access for getting out of your seat for potty breaks with your restless toddler. The nice thing about traveling with a toddler is that you're allowed to board early. This gives you time to get to your seat, sanitize everything in sight and get situated for the flight ahead. Make sure that when you get to your seat, keep all the things you'll need for the flight nearby and within easy reach. Expert tip: If you're traveling with your partner or friends, divide and conquer the boarding process so you aren't sitting on a plane for an extra 30 minutes with an overactive toddler. Have your spouse board early with your gear to grab your seats and you board the plane at the last minute with your little one. If you're flying alone, ask a flight attendant to assist you in getting everything you need on the plane.

While you're in flight, consider bringing things that help your little one's ears get adjusted to the change in pressure. Bring a sippy cup with a straw as sucking can help relieve ear pressure. Munching on crunchy snacks can have the same effect. Expert tip: If your toddler is complaining about his ears, make a game out of yawning as this can help pop his ears as the plane nears landing.
Final thoughts on traveling with a toddler
Once your plane touches down, you've been through the "worst" of the journey and you still made it! The biggest thing to remember when traveling with a toddler is to bring things with you to keep him entertained. Everything will feel like a fun new experience for him as long as you are prepared. Traveling with a toddler does bring unique challenges, but everything is worth figuring out in the end. And more often than not, you'll be pleasantly surprised by your toddler's mild behavior. And if the toddler travel is a huge success you're well on your way to having an amazing vacation with your best buddy.
Join the other 100,000+ new parents who love Bitsy Boxes.