Drowning Prevention Guidelines You Need to Know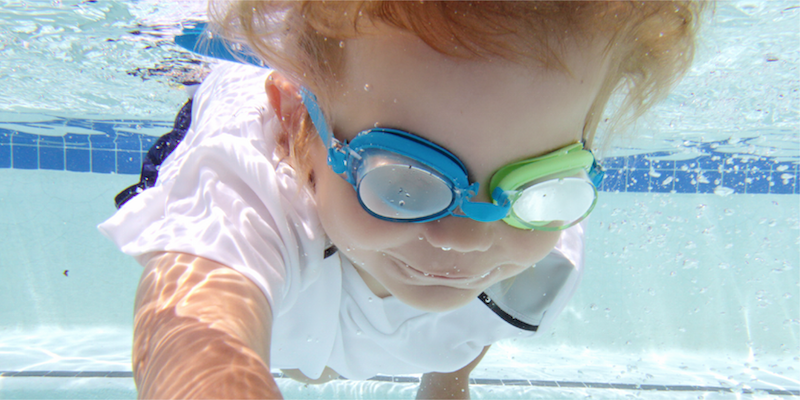 As we inch closer to warm weather and summer activities, the American Academy of Pediatrics (AAP) has updated its drowning prevention guidelines to keep little ones safe around water. What you may not be prepared for with motherhood is drowning is quite common. Here's the scary news: drowning is the leading cause of death in the US for children ages 1 to 4 according to the Centers for Disease Control and Prevention (CDC). In 2017, drowning killed 1,000 children and as a result, the AAP released updated guidelines to combat accidental drowning deaths. Here's the scoop on what every parent needs to know.
Understand the realities of drownings
Infants are more likely to drown in bathtubs, while preschoolers are most likely to drown in swimming pools. And it can happen much faster than you think: little ones can drown in as little as 25 seconds. In most cases, parents and caregivers say they WERE supervising the child at the time, but keep in mind that toddlers are curious and fast. They can disappear from your site instantly. When a child drowns they don't yell or splash and their bodies sink quickly. The irony is that with most drownings, plenty of adults were around supervising and simply didn't notice a toddler drifting off, or near a pool.
Remain in sight and within reach
The AAP's new guidelines say that supervisors must be within an arm's reach and should have an eye on the child at all times. While you're playing with little ones in a pool or a beach, you or another responsible adult should stay in the water, within touching distance and keep 100 percent of your attention on him. If you need to leave the water area the child should go with you and be cautious about trusting babysitters. Even as children get a little older and more experienced, you should always keep him in sight because kids of all ages can get tired or grow panicked within water.
Start lessons as early as one year old
The new drowning guidelines call for young children to start swimming lessons as young as one year old. Keep in mind that it's important that your child is ready physically and mentally. Have they been exposed to water? Can he get in and out of the water easily and take direction from the instructor? Look for programs that will group children according to their skills and then consider refreshing those skills every year so she's never lax about safety around water.
Water wings aren't reliable
According to the AAP, young children should always have a Coast Guard-approved life jacket on at all times while in water. A lot of parents put faith in flotation devices, like water wings, to keep their children safe when in reality, they were never made to be life preservers. If you're right next to him, floatie toys are ok for him to use but never while he's swimming further away from you.
Home pools need to have the appropriate barriers
Having the appropriate barriers and strategies, such as fences, gates or locks around pools, can add an extra level of precaution. If you have a pool at home, you should have a four-sided fence installed that separates it from the rest of the yard. A self-closing and self-latching gate is a must. This particular drowning prevention guideline includes inflatable and plastic pools. Large kiddie pools and smaller baby pools should be emptied after every use. Even in a shallow pool a toddler can encounter danger. He could fall headfirst and get a mouth or lungful of water and panic. A situation like that can have a drowning occur within just a few minutes. Along with the fence, never leave your children unattended in the bathroom or near open bodies of water.

Summer is approaching and that means a lot of quality time spent at the beach or pool. Keep your summer vacation happy and safe by practicing these drowning prevention guidelines and be aware of potential water hazards at all times.
Join the other 100,000+ new parents who love Bitsy Boxes.