Holiday Gift Guide for the Expecting Mama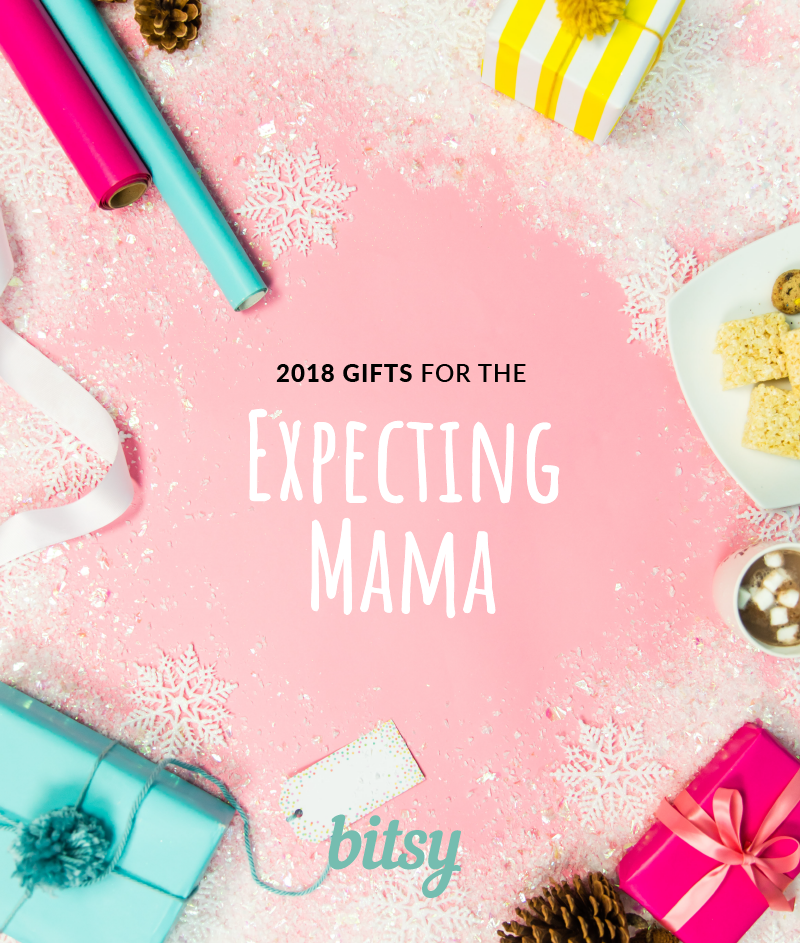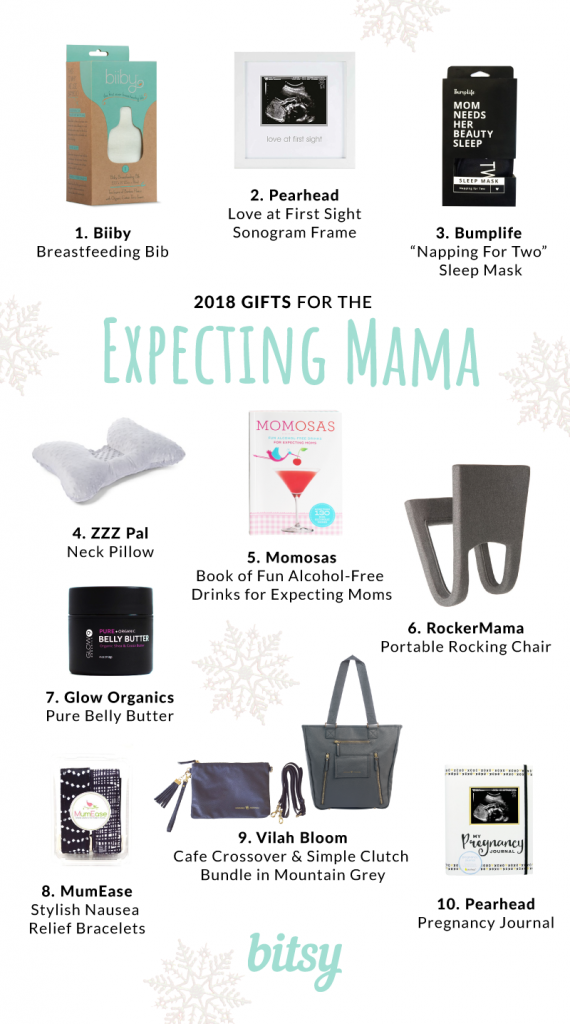 The items in this gift guide include everything you need for the expecting mama in your life!  When she's expecting, she'll love having the practical (and fun!) products to help her through the next 9 months!  Even better?  You can win this whole gift guide today!  Enter our giveaway here!
Biiby Breastfeeding Bib: Make breastfeeding easier for you and Bitsy with this bib from Biiby! Made of muslin organic cotton, these adorable bibs keep both you and your little one dry, making clean up a breeze!
Pearhead Love at First Sight Sonogram Frame: This frame is an absolute fave at the Bump Boxes office!  An incredibly sweet way to commemorate your exciting news, this frame lets you showcase your growing little one from first appointment through birth!  You'll love showing off your "love at first sight" moment.
Bumplife 'Napping for Two' Sleep Mask: Mama needs her beauty sleep, and BumpLife is here to help! Place this lightweight, stylish sleep mask over your eyes, kick your feet up and get some well-deserved rest… you are napping for two after all! This black satin mask is sure to give you the moments of relaxation your growing body craves!
ZZZ Pal Revolutionary Neck Pillow: This neck pillow is perfect for nursing or rocking your little bundle of joy, or relaxing while watching TV on the couch. They can also be used during travel, and are compact enough to pack in a carry on. The material is baby blanket soft and the supportive structure is optimal for keeping your neck in better alignment while relaxing, or even snoozing! 
Momosas Fun Alcohol-Free Drinks: Now this is a pregnancy book we can get behind!  With drinks like Hot Mama, My Little Peach, and Stork's Choice, this will be your go to the next time you need a refreshing drink.  In fact, we bet you'll still be drinking them even after the stork brings your little one to town!
RockerMama Portable Rocking Chair: The Ready Rocker™ is the first truly portable rocker that allows parents to rock their babies anywhere, anytime. Designed to be used in the house and on the go, it turns almost any bed, chair, wall, or even a tree into a rocking chair. Since it is light and storable, it provides a comfortable, convenient way for moms to escape the confines of the nursery and reclaim their lives.
Glow Organics Pure Belly Butter: Skip the chemicals and artificial fragrances, this Organics Belly Butter is the safe solution you've been looking for! This all organic Belly Butter is an amazing skin conditioning treatment to help promote skin elasticity during pregnancy and beyond. It also aids in the prevention of stretch marks and relieves the itch of stretching skin.
MumEase Stylish Nausea Relief Bracelets:  These bracelets are stylish and discrete while offering effective acupressure relief from that morning sickness!  Each pack comes with two bracelets that are easy to wear, comfortable, and match just about any outfit!
Vilah Bloom Cafe Crossover & Simple Clutch Bundle: Truly a bag set for the most stylish mamas!  The sleek design of the Cafe Crossover bag is made with faux vegan leather and weather resistant lining!  With the ability to change from shoulder to backpack to crossbody and the built in wipe dispenser, you won't want to live without this!  Pair with the adorable clutch bundle for added style!  You can save 15% on your purchase with code BBHOLIDAY here!
Pearhead Pregnancy Journal: Never forget a moment of this beautiful time in life with this pregnancy journal from Pearhead!  With 74 pages full of guided journaling, this sweet book will help you document every moment from the big announcement to that sweet delivery!