Spring Cleaning Hacks for Busy Parents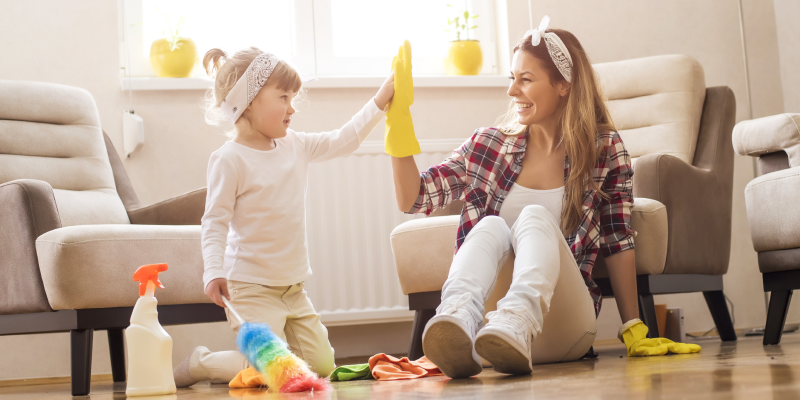 If you're a mom of a toddler, you know how overwhelming and challenging it is just to get through a normal day going from point a to point b. When spring rolls around and a deep clean is on your wish list, it may feel like an impossible job even though a clean and organized home is the key to keeping your lives running smoothly. If you're a busy mom juggling various things, dedicating huge blocks of time to deep clean is just not realistic. Spring cleaning hacks to the rescue! These spring cleaning tips can help you get the job done in half the time AND without the stress! As an added bonus: you can have little hands get in on the fun with some of these tips. It's a win-win for busy moms!
Have old newspapers lying around? Use them for streak-free wiping
Did you know that paper towels and rags can leave lint behind from wiping? Use newspapers instead. Once you have the windows cleaned with your favorite cleaner, wipe them dry with old newspapers for a streak-free shine.
Avoid having chemicals near the food in your refrigerator
If you're nervous about cleaning the refrigerator shelves because of any chemical residue, use hydrogen peroxide instead. It's non-toxic and effective at removing dirt and debris build up. Add the liquid to a squirt bottle for easier application.
Heat a sponge for a more effective clean
Did you know that by heating a sponge, you can more easily remove grime and dirt in your kitchen cabinets? Just place a damp sponge in the microwave for one minute and then spray on your preferred kitchen cleaner. Have your little ones participate in scrubbing the cabinets clean.
Wash your shower curtain with vinegar
Soap scum is one thing that can easily (and quickly) build up on a shower curtain liner. It's a good idea to wash them several times a year to keep the soap scum from accumulating. Throw it in the washer and after adding your detergent, toss in a cup of vinegar which will work at removing the soap scum.
Clean your microwave by steaming a lemon
The microwave deep clean is one that always feels daunting. This spring cleaning hack for busy parents does wonders. Cut a lemon in half and squeeze the juice into a bowl of water. Add the rinds into the bowl and place in the microwave on high for five minutes. Let it sit for another five minutes and then remove the bowl. The lemon water breaks down debris, and the steam makes everything easy to remove. Voila! A clean microwave in half the time!
Add baking soda, ice and salt to the garbage disposal
There are a ton of spring cleaning hacks for your garbage disposal but this one is relatively easy and inexpensive. Run cold water down the sink drain and add a cup of ice before turning the disposal on. Turn it on and add ½ cup of rock salt to the drain at the same time. The ice and salt mixture helps to remove any debris from the inside of the disposal area. Lemon juice is a natural deodorizing alternative that can be added to the mixture.
Stubborn mildew spots? Use cotton balls to remove them
If your tub and shower has hard to reach (and remove) mildew spots, dip cotton balls in bleach and let them sit in the corners while you're working the rest of the tub, or doing other cleaning. When you're done, you should be able to come back and remove the cotton balls and have zero mildew left in the corners.
Use the dishwasher as a multi-tasking cleaning agent
The dishwasher can be used for more than just dishes. While you're cleaning areas of the house, don't waste time cleaning things that can just be tossed into the dishwasher and cleaned for you. For instance, toys, glass globes, light fixtures, sponges and cleaning brushes can all be cleaned in the dishwasher.

There you have it, several spring cleaning hacks for busy moms. These tips will save you time and precious energy that you'll need for running around chasing toddlers.
Join the other 100,000+ new parents who love Bitsy Boxes.