Mother's Day Facts to Share With Your Mom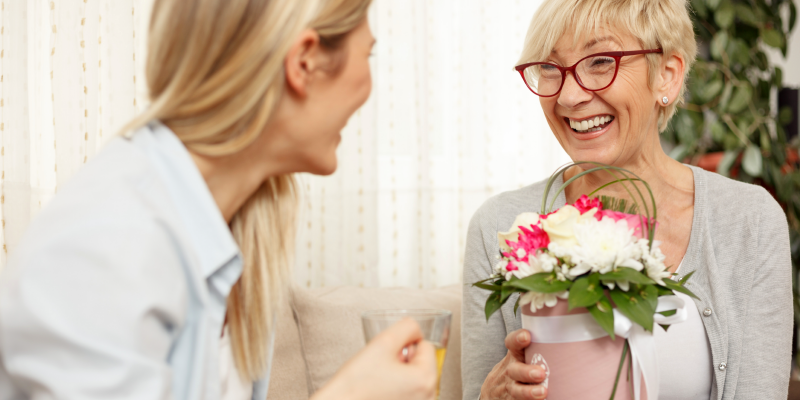 No matter what you have planned with your own mom for Mother's Day, whether it's brunch or a fancy dinner, the goal is to shower her with love and appreciation. As you're celebrating the day together, impress her with these fun Mother's Day facts about the history of the holiday and how it has evolved over the years.

Get out the calling cards! People make more calls to their mothers on Mother's Day than any other day of the year to the tune of approximately 122 million calls.

Flowers, anyone? After Christmas and Hannukah, more people buy flowers and plants for their moms on Mother's Day making it the third highest selling holiday for flower arrangements. Just over one quarter of all flower sales in one year occur on Mother's Day.

While Mother's Day isn't on the same day every year, it does occur on the second Sunday of every May.

The word "Mom?" We can thank babies for it! The first thing a baby can vocalize is the "ma" sound. Because of that, almost every language begins with the letter "m" or some iteration of the "ma" sound for the word "mom."

Restaurants consider Mother's Day the busiest day of the year, according to the National Restaurant Association. In 2018, almost 90 million adults made Mother's Day reservations.

It is widely believed that Ancient Greece held one of the first Mother's Day celebrations. Every spring, Greek people would hold ceremonies honoring Rhea, the goddess of fertility, motherhood and generation.

Moms make up more than 43.5 million people in the United States. Collectively, they have mothered 95.8 million children. Whew that's a lot of babies!

Peacemaker Ann Jarvis is the person credited with starting the first Mother's Day. As a way to boost friendship and community between mothers during the Civil War, Ann Jarvis started a committee in 1868 calling it "Mother's Friendship Day." Ann's daughter Anna continued her legacy by creating the official holiday and Woodrow Wilson signed it into law in 1914.

Carnations have a special meaning on Mother's Day and it dates back to Anna Reeves Jarvis. She used the carnation to honor her own mother, and to symbolize whether your mother is still with you. A red carnation meant she's living and a white meant she had passed.

Approximately 152 million greeting cards are sent on Mother's Day making it the most popular gift for moms.

In 2018, more than $23 billion was spent on Mother's Day gifting. The average amount spent on moms is $180, with $4.6 billion spent on jewelry and $4.4 billion on dinners or brunches nationwide.

Nations all over the world celebrate Mother's Day, including Great Britain, Canada, Costa Rica, Samoa, Georgia, Australia and Thailand.
Join the other 100,000+ new parents who love Bitsy Boxes.